Dear FOAOTMAD Friends:
In mid- 2018, about the time I finished working on a manuscript about Tommy Thompson of Red Clay Rambler fame, the West Virginian fiddler and banjoer Dwight Diller reminded me that after I finished writing a book on him in 2016 I had hoped to do a book on Bill Hicks, a North Carolinian fiddler who was a member of the Fuzzy Mountain String Band and the Red Clay Ramblers, and played with a bunch of other bands between 1981 and the first decade of the 2000s.
At the time, Bill didn't embrace the idea, and urged me to write about Tommy.
In April 2018, as I was finishing up the writing work on Tommy, Dwight told me I needed to make another run at Bill to try and bring him around because - as Dwight put it - if any one of those North Carolinian musicians deserved a book, it was Bill Hicks.
I did talk to Bill, and he seemed far more amenable, so I set to work trying to figure out a course of action.
For most of August 2018, I started thinking about Bill's perspectives on a range of matters including the earliest days of the Durham/Chapel Hill old time music scene, the trajectories of various individual musicians, his recollections of visiting and learning old tunes at the homes of old fiddlers, the emergence and contributions of the Hollow Rock and Fuzzy Mountain String Bands, his views on the crystallization of the Red Clay Ramblers and his role in the band until his 1981 departure, and his various other band collaborations since then . . . as well as his recollections of the civil rights movement in Chapel Hill in the mid-1960s and his days as a graduate student of philosophy, examining enduring issues that were not that far from his sense of creativity and notions of perception and how that tied into his contemplation of ideas relating to making music.
I began to try and structure a book that would reflect the narrative of Bill's creative life - his music, masonry, song writing, philosophizing - and dig deeply into aspects of his fiddle playing, his views about the traditions of old time music, the revival as he saw it between North Carolina and California in the mid and late 1960s and the early 1970s, the formation of several bands central to development of string band music in the 1970s.
Not long after he agreed to a book project about his musical trajectory in life, and his other creative exploits, Bill confronted a raft of health challenges that sidelined him throughout most of the last half of 2018. All that made it hard for him to fix his attention on anything besides coping with the cascade of medical issues, and compelled his wife Libby to focus on managing his treatment and home care.
Bill died in Libby's arms in early November 2018.
The last conversation Bill and I had on the phone, about two weeks before he passed away, he thanked me for pressing forward with the planned book, and looked forward to rallying so he might resume helping me.
I've been taking that as my cue to press on with the work.
One thing that I've not been able to discern is whether Bill's fiddling had an audience with Friends of American Old Time Music and Dance.
Bill traveled to Europe several times with the Red Clay Ramblers in U.S. State Department organized tours. He reached out and built friendships with Irish musicians who found their way to Chapel Hill. For example, the Red Clay Ramblers had a musical link with Trionna N'Domnhil, an Irish musician who lived in Chapel Hill for a good part of the 1980s and fronted a band called Touchstone, along with Zan McLeod. Her late brother played professionally with John Burke.
I'd like to ask FOAOTMAD friends whether Bill Hicks ever achieved traction on your side of the world, whether old time - or new time - musicians in the UK listened to Fuzzy Mountain recordings, or followed the music of the Red Clay Ramblers, and whether Bill's fiddling did anything for old time musicians or old time music fans in your universe.
Thanks.
Take care,
Lew Stern
Bealeton, Virginia
brooklynbanjoboy@yahoo.com
Tommy Thompson: New Timey String Band Musician
, "Contributions to Southern Appalachian Studies," Jefferson, North Carolina: McFarland and Company, Inc., 2019.
Dwight Diller: West Virginia Mountain Musician
, Number 39, "Contributions to Southern Appalachian Studies," Jefferson, North Carolina: McFarland and Company, Inc., April 2016.
Powered by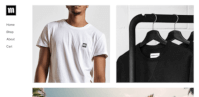 Create your own unique website with customizable templates.